Hello Guys! I'm back and as promised, today I'm going to post a tutorial on how to customize or edit the other parts of your themes in your Samsung Corby II 2 mobile phones. I was gonna make a video tutorial of it but my computer is not working well right now and the Fraps I installed corrupted. Corby Cat is going to reinstall my computer maybe tomorrow. Anyway, just follow all the things I wrote below to create an advance theme.
Things you need:
Samsung Theme Designer
Adobe Photoshop
Basic Photoshop Skills
If you don't have any Adobe Photoshop skills then I guess it's time for you to study about it. There are lots of Photoshop Tutorials on Youtube if you're really interested. You may also download Adobe Photoshop for free
HERE!!!
but you need to register before you can download anything.
Steps to Follow:
OPEN Samsung Theme Designer [Download Here]
Create New Theme>>Feature (Touch) Phone>>GT(S3850)Frappe>>Default>>Name Your Theme (e.g. PlantsvsZombies)
Now let's open the drive where you installed your Samsung theme designer which most of us installed it in our Drive C. To get there go to MY COMPUTER>>LOCAL DISC (C:)>>PROGRAM FILES>>SAMSUNG>> MY PROJECTS>> The name of your THEME (e.g. Plantsvs.Zombies)
Open (Plantsvs.Zombies) File Folder>>THEME DATA (you will see a lot of files inside).
Scroll down and find the file names below as indicated
6. Right Click ( MainMenuIndiHorizontal.png) and OPEN WITH>> ADOBE PHOTOSHOP.
7. You can add your own design. You may change the color of the header or put some image on it
whatever you like. Don't put too much design because sometimes the file size will cause your theme to
corrupt. Keep your design simple and light. Putting too much layers or images on your header will make
your file corrupt.
8. When desired design is achieved, you may now save your image. Please read this instruction carefully
before saving. Click SAVE US and find the ORIGINAL FILE NAME OF THE HEADER YOU EDITED which in this
example (MainMenuIndiHorizontal.png) so on so forth. NEVER EVER CHANGE THE ORIGINAL FILENAME or
else your theme will corrupt. Do this until all the 6 images are done.
9. To check or preview your design of your theme, Go to your Samsung Theme Designer again and RUN
EMULATOR. You will see how your theme will look like.
10. You can change some parts of the themes not just the header but also the tabs and some buttons though some parts of the theme can't be edited.
Don't forget these things while editing your theme:
Always save your image in .png files or it won't work or the file will corrupt.
If the image file size is large you can't export the theme. You may need to minimize your design. Don't put too much layers on your file 'coz this will maximize your file size.
Sometimes when your file corrupts you may not be able to open your theme anymore and you'll have to start again.
You can't customize all the files inside the theme data and you'll find the reason why if you'll ever attempt it.
In Photoshop, You need to save your Idle wallpaper in .jpeg and if it will ask for FORMAT OPTIONS it must always be Baseline ("standard"). If you'll save it in other format your wallpaper will be pixelized.
Refrain from running the emulator because sometimes your theme designer will crash and you may have to start all over again.
Before editing the header, you must first change the style of your theme because if you're going to do this after editing your header, it will overwrite your edited image files. You must be certain on what color style you will going to use or else you'll have to start all over again. If you don't know what I'm talking about check the image below.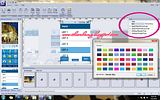 I hope this tutorial will be of great help to all those aspiring theme makers out there. Share the good news and have fun designing themes guys and don't forget to drop some comments, reactions and suggestions below. Chao!